Welcome!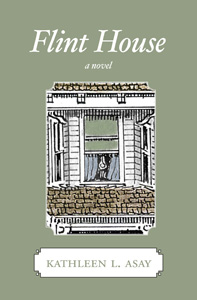 Flint House
*Winner*
First Prize, General Fiction
20th Annual Book Awards
Northern California Publishers and Authors
April 2013.
What happens when a burnt-out journalist meets a house full of lost souls? Liz Cane has seen too many sob stories in her career with The Sacramentan to have much sympathy for the boarders in Flint House who face eviction after the owner of the house dies, literally at Liz's feet. But when she meets a mysterious tenant and is drawn into the battle to save their home, she discovers the story isn't the one she expected, and family begins in the heart.
Many years ago, an older woman dressed in yellow and with artificially yellow hair and 1940s make up used to walk to a bookstore near where I worked in Los Angeles. She was pretty and it intrigued me that she made herself up as she must have done when she was younger. I wondered who she might have been and who she was then, in her 70s. Too shy to ask, I decided I would someday give her a story. I took her image with me as we moved around the West, and when we arrived in Sacramento, I found her a home, Flint House.
See my Books page for more information, including order links
What they've said:
Kathleen Asay mines the mysteries of the human heart and uncovers gold. Flint House is more than a story about the struggle of society's misfits and their enigmatic leader to save their Sacramento boarding house from closing. It's a tale of redemption, love in all its myriad forms, and the power of hope. Like the cynical journalist who narrates their tale, you'll fall in love with the denizens of Flint House.
Cindy Sample, author of Dying for a Date and Dying for a Dance
A warmhearted saga of connections found, connections lost and connections that make family out of strangers with bonds as real as any based on blood. So come on, move into Flint House, but be warned, once you do, you won't want to leave.
Bill Pieper, author of the novel What You Wish For
An accomplished writer with a gift for storytelling, Kathleen Asay has crafted an intriguing tale in Flint House, a mystery set in Sacramento, California. Asay's characters are original and well-drawn, and the novel is charming throughout. Best, the surprise ending is deeply satisfying—I'm looking forward to reading more from this fine novelist.
Renee Thompson, author of The Plume Hunter and The Bridge at Valentine